By immune system, we mean a system within the body that recognises a external invading agent and processes an immune response. This includes various body part such as the thymus, spleen, lymph nodes and specialised cells found throughout the horse's body such as white blood cells and immunoglobulins. Let's check what events can cause a drop in immune function and what we can do to help the immune system maintain its normal response.
Stress' Sources in horses can put a strain on the immune system:
It is well known that stress has a negative effect on the immune system and consequently on the performance of horses. The main sources of stress in horses are intense physical activity, transport, high temperatures, changes in feed, changes of ownership or trainer. These factors can affect the immune system with predictable consequences. There is important evidence in horses of increased plasma concentrations of total and free cortisol following moderate exercise.
Animal wellbeing is therefore become poor if animals are forced to have an intense and prolonged effort to adapt, be it environmental or physical. In the same way as exercise, separation from the herd or traumatic weaning can cause stress and a drop in immunity.
What are the other target systems of stress?
In horses, enteric metabolism is closely linked to immune metabolism, so a healthy stomach and cecum is the first step in preventing a drop in defences. In times of stress, complementary feeds support the normal physiology of the gastro enteric system, such as Trophogast Pellet, are recommended to maintain the integrity of the stomach mucosa and Enterovet or Equigest Plus to provide prebiotics and probiotics to support the gut microbiota.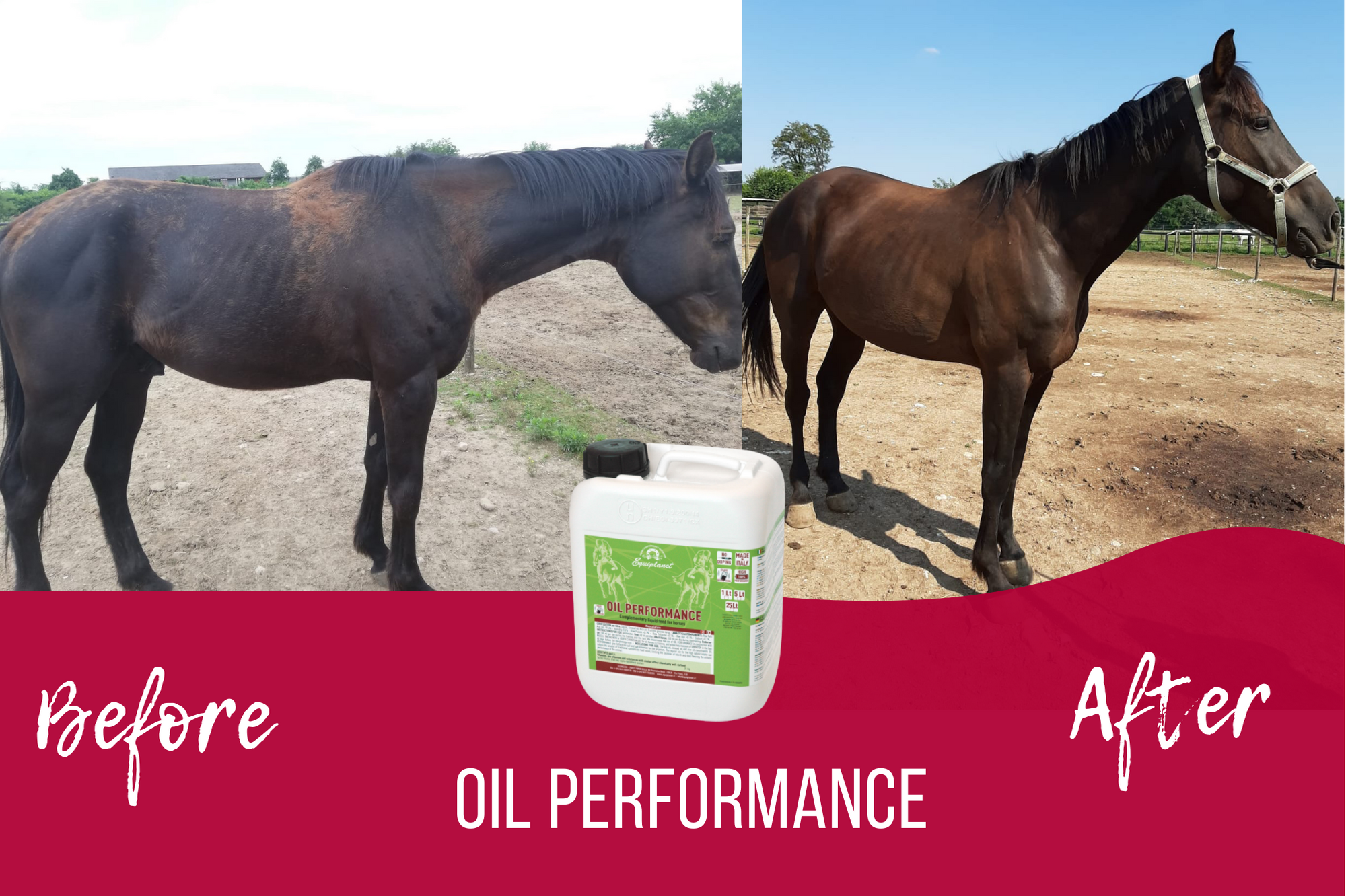 The change of the coat is a stressor
The physiological change of the coat also causes a high demand for energy in autumn and spring, so it is useful to provide complementary feeds that provide energy and nutraceuticals such as Omega 3 and 6 such as Oil Performance to support normal coat turnover.
Which complementary feeds can be used?
Vitmin C for the immune system
In horse management ,There are numerous studies on horses that report the important role of vitamin C. The horse, under normal conditions, is able to synthesise vitamin C in the liver, but it is estimated that in horses that are highly stressed or working this ability decreases. Supplementation of the diet with complementary feeds based on Vitamin C, such as Protex C which contains 500,000 mg/kg, for short periods can be beneficial due to Vitamin C's function in stabilising cell membranes including those of defence cells and in promoting the integrity of capillary endothelia.
The special feature of Protex C is that in this complementary feed, vitamin C is microencapsulated, so it is more stable and therefore the supply is guaranteed.
Other complementary feed to support the horse's immune system
Vitamin C (10.000 mg/kg) is also one of the components of Horse Immunofluid, a complementary feed to promote the welfare of the horse, whose main component are products obtained from the processing of dried vegetables such as Ribes nigrum, Eudalyptus globulus, Thymus vulgaris, Astragalus membranaceus. The composition also includes a botanically defined natural product, Echinacea angustifolia (for the complete composition of the complementary feed send an email to info@equiplanet.it).
All components of Horse Immunofluid have properties that help to support the horse in times of increased stress. The properties of some plants are listed below:
Ribes, is attributed an antioxidant action to this plant, to stimulate neutrophils and a cortisone-like activity that promotes the production of adrenal steroids going to counteract any kind of stress.
Echinacea this plant is qualified with increasing the ability of cells in the immune system to defend themselves.
Astragalus this traditional Chinese plant promotes wellbeing and the immune system
Thyme has always been used in problems with the respiratory system and is an excellent support thanks to its balsamic properties.
Eucalyptus is an extract whose essential oil is useful to support the normal function of the upper airways.
In Horse Immunofluid is also added Vitamin B12 (20 mg/kg), whose deficiency is often due to gastrointestinal dysfunction or diets that do not fully meet the requirements. Vitamin B12 boosts the proliferation of defence cells and the synthesis of antibodies, with an immune system boosting effect.
For any further information on supporting your horse's immune system, you can email us here: info@equiplanet.it
follow us on Instagram
Bibliography
Plant Bioactives and Extracts as Feed Additives in Horse Nutrition. M.M.Y.Elghandour, 2018
Anti-inflammatory phytotherapeutics: a valuable alternative to NSAID treatment in horses? S. Torfs, 2008
Antioxidant and anti-inflammatory activities of Ribes nigrum extracts. JessicaTabart, 2012
In vitro and in vivo immunomodulating and immunorestorative effects of Astragalus membranaceus. W Chi Shing Cho, 2007
Immunological and haematinic consequences of feeding a standardised Echinacea (Echinacea angustifolia) extract to healthy horses. W. O'Neill, 2002
Stimulatory effect of Eucalyptus essential oil on innate cell-mediated immune response A Serafino, 2008
Some commonly fed herbs and other functional foods in equine nutrition: A review C A. Williams, 2007
The Production Of Vitamin B12 In The Horse. ME Davies, 1971
The antiviral properties of vitamin C. RML Colunga Biancatelli, 2019
Oral administration of ascorbic acid to horses. D. H. Snow, 1987
Physiological responses to stress in the horse. J. H. Foreman, 1996
Introduction to horse nutrition, Z. Davis, 2009